Closed Casket, Sophie's second Hercule Poirot novel, is out now!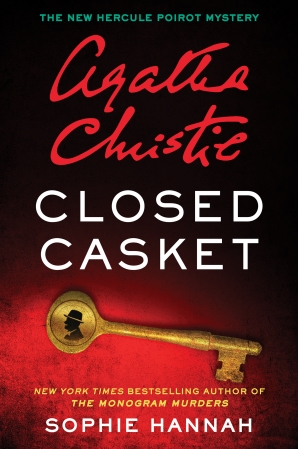 'This mystery is enormously compulsive – keep 'em coming! *****' heat magazine
'The murder investigation proceeds both trippingly and thrillingly…Hannah is rightly proud of the fact that the ingenious solution to the murder can be conveyed in just four words. Her sense of fun is infectious. The Christie conventions are observed but given a playful tweak.' London Evening Standard
'Sparkling second outing for Hannah's reimagined Poirot. The setting (posh Irish country house), the characters (country lawyers, creepy male secretary, stroppy flapper, etc) and the period vocabulary are all spot on, but it's the utter fiendish unpredictability of the plot that makes Sophie the new Agatha.' Sunday Times, London
'Closed Casket conceals its shocks within neat layers. Exciting, mysterious and ingenious, this continuation novel feels like the real deal.' The Australian
'Hannah, as she did in 2014's "The Monogram Murders" — an excellent read that "Closed Casket" manages to surpass in quality — fashions a puzzle worthy of Christie. Hannah rivals Christie in her ability to concoct a complex but plausible plot. Christie's fans…will open "Closed Casket" — which Hannah stamps with her own imagination while honoring Christie's work — with enthusiasm. And close it with satisfaction.' Richmond Times Dispatch
'For those who grew up devouring the Poirot mysteries, Closed Casket seems like the latest in an un-broken chain. You'll totally forget that you're not reading something straight from the (ghostly) pen of Dame Agatha.' Bookpage, US
'Every bit as brilliant and improbable as any of Christie's own.' Kirkus
______________________________________________________________
SYNOPSIS:
"What I intend to say to you will come as a shock…"
With these words, Lady Athelinda Playford — one of the world's most beloved children's authors — springs a surprise on the lawyer entrusted with her will. As guests arrive for a party at her Irish mansion, Lady Playford has decided to cut off her two children without a penny . . . and leave her vast fortune to someone else: an invalid who has only weeks to live.
Among Lady Playford's visitors are two strangers: the famous Belgian detective Hercule Poirot, and Inspector Edward Catchpool of Scotland Yard. Neither knows why he has been invited — until Poirot begins to wonder if Lady Playford expects a murder. But why does she seem so determined to provoke a killer? And why — when the crime is committed despite Poirot's best efforts to stop it — does the identity of the victim make no sense at all?
Order Closed Casket using any of the links below: